Live large, pay small in Panama City
Wednesday, 22 May 2013
(CNN) -- When the Economist Intelligence Unit released its most recent Worldwide Cost of Living Survey, the spotlight, as ever, fell on the world's most expensive cities.
Tokyo came in on top of the pile of places that drain the color from your wallet, while Osaka and Sydney were second and third.
But what about the other end of the spectrum -- how about a holiday where you can live it up without hemorrhaging cash?
The world's cheapest city is Tehran, Iran, followed by Jeddah, Saudi Arabia. Both have rich heritages, but Iran and Saudi Arabia are better known for generating controversial headlines than attracting tourists.
In third place, however, Panama City popped up. The Central American country is best known for hats and a canal -- now we've got a reason to make sure our passport is up to date!
Over the past decade, Panama has enjoyed the fastest growing economy in Latin America.
As a result, new hotels and restaurants have sprouted across the capital. Healthy competition is keeping standards high, and Panama City has a plethora of top-quality, luxury experiences for cut prices.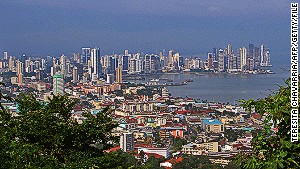 Panama City is the most affordable capital city in the Americas.
Logistics
Before stepping foot outside the airport, you've started saving. All tourists arriving at Tocumen International Airport are given travel insurance for 30 days. It is granted by the Panamanian Tourism Authority; the government has provided the service since it signed an $8 million deal with Assicurazioni Generali.
Next up: cash. The Panamanian balboa is linked with the dollar and the two currencies are interchangeable, so there's no paying a commission for changing currency.
As for airport transfers, a standard taxi to the city center costs $25. You could arrive in style with a Panama Luxury Limousine for $88.50. The same service would cost $145 in Rio de Janeiro, or $427 in Tokyo.
More cents can be saved (and you can do your bit for the environment) by avoiding bottled water. Tap water in Panama City is safe to drink, not a given in the region.
The Panama Canal is one of the world's top man-made attractions.
Attractions
Panama Viejo
The oldest section of the city, Panama Viejo was burned to the ground in the late 17th century by British pirate (or privateer, depending who you ask) Sir Henry Morgan.
The crumbling remains of towers, forts and houses run along the coast waiting to be explored. The visitors center has a model showing the city before Morgan showed up.
Panama Viejo; +507 226 8915; $3 for museum, $4 for ruins, $6 for both; open Tuesday-Sunday, 9 a.m.-5 p.m.
Panama Canal
The Panama Canal took 250,000 people more than 10 years to build (not counting the original failed French-led effort), transports 40 boats each day (taking eight to 10 hours per transit) and costs an average of $85,000 per vessel.
Luckily, tours are a little less, and a partial transit with Canal & Bay Tours costs $135 per person, including breakfast, lunch and transfer though two sets of locks.
The Panama Canal celebrates its centenary in 2014, and to mark the occasion it's undergoing a $5.25 billion modernization and expansion.
Progress is best viewed from above. Air Charter Panama arranges one-hour helicopter tours covering the Pacific and Atlantic sides of the canal from $749 for three passengers in a Robinson R44.